Buying Guide To Getting Best Headphones For You
There are many kinds of headphones and depending on what your needs are you have an easier decision on what kind you will actually need. It's pointless buying a pair of full size set of Hi-Fi headphones when you are only going listen to music whilst you are jogging, conversely buying a set of sports earphones to use on air flights would be useless since they do not isolate much background noise. There are five kinds of headphones. Let's go over them.
Over-Ear Headphones
Over-ear headphones are the kind that you are most used to seeing. These headphones cover your entire ear and are the kind that are most often noise cancelling. The sound on these headphones cannot be beaten and the lack of outside noise and the control of the sound by the manufacturer in making the sound perfect in your ear. The drawback of these headphones is that they are large and when wearing and listening these headphones will mean that you can not hear anyone around you.
On-Ear Headphones
On-ear headphones are the most common type of headphone. They are also know as 'super-aural headphones' or 'earpad headphones', some have ear cups that literally rest on your ear while others have a larger cup like 'full size' headphones. The advantages of a on-ear headphone are they are comfortable, your ears are less proven to overheating compared to using a full size set and some models can fold up for easy transport.
The drawback of the on-ear headphone is that since the sound is not blocked by anything much more sound can leak out and people around you can hear the music that you are listening to especially at higher volume.
In-Ear and Earbuds Headphones
In-ear and Earbuds are great for commuters as the sound is in your ear and does not "leak" out to others around you. The real advantages are that these headphones are very very portable and kind of hidden within your ears. There are however drawbacks to these earbud style headphones. With a small size of headphone you will not have the big sound stage and range of sound that a larger speaker can give you. One of the biggest problems is that since these headphones sit inside your ear and this can be dangerous at large volumes leading to hearing problems in later life.
Headsets
Headsets are on-ear headphone with a microphone. Usually these are paired up with a computer and video games so the quality is not expected to be great and often is not. The really great thing about these typpes of headphones is that you can in fact multitask listening to music while you need to talk on the phone.
Wireless Headphones
Wireless headphones is useful if you want to move around listening to music. With wireless, since they are usually over the ear, there are no limits to how good they sound. Since these headphones need to use wireless RF technology the real drawback is the weight and price.
Headphones are a great investment for many people. With the cost of speakers being so high and with the proliferation of MP3 players there is a real need for most people to have a great music listening experience by listening to music with one of the sets above.
Now that you know a bit more about headphones perhaps it is time for you to see what is available with honest reviews of different types of headphones. Go to http://headphones.billysreviews.com
Don't worry if you are loss with all the different types of headphones. I have compiled the best in-ear, on-ear and over-ear headphones below:
Sony Noise Cancelling Headphones WH1000XM3: Wireless Bluetooth Over the Ear Headphones with Mic and Alexa voice control – Industry Leading Active Noise Cancellation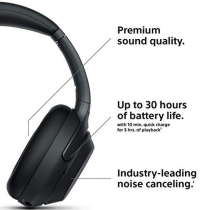 This the best headphones in our review. It can do everything.
Pros:
Outstanding noise cancellation. This headphone is currently the industry-leading noise canceling wireless headphones with Alexa voice control. This means you can hear every word, note and tune with incredible clarity, no matter your environment.
.
Fantastic sound quality.
.
30-hour battery life allowing you to enjoy more than charging this headphone.
Cons:
Mediocre phone call quality
Verdict:
If you need a headphone that can live up to any challenge and excel in any environment, this is the one to buy.
1MORE Triple Driver In-Ear Earphones Hi-Res Headphones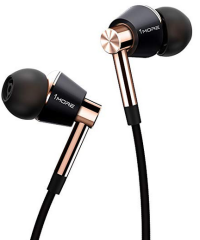 This is a good value headphone that offer great sounds.
Pros:
Lush sound quality
.
Excellent build and design
.
At its value, it's hard to think of a better sounding and built headphone than the 1MORE Triple Driver
Cons:
Its rubber cable is annoying and its remote control feels cheap but these are minor after considering the pros above.
Verdict:
This is a best value in-ear headphone in the market. Buy it today.
Grado SR60e Headphone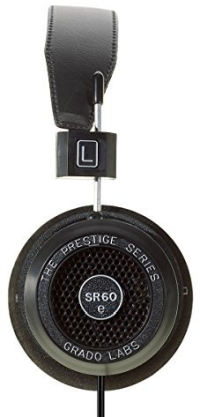 For your money, you can't do any better than Grado's SR60e on-ear headphone
Pros:
Very comfortable to wear due to its open-backed ear cup design which makes them a more breathable experience than what most on-ear headphones can deliver.
.
Impressive sound definition for the price
.
Highly recommended at Amazon.
Cons:
It doesn't come with in-line controls
Verdict:
This on-ear headphone is a smart choice if you're looking for an entry-level set of headphones that sounds like it should cost you way more than it does. Get it today.
Bowers & Wilkins P9 Signature HiFi Over Ear Headphones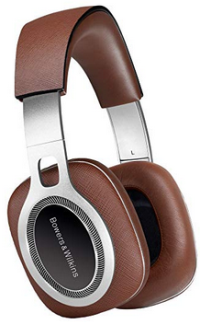 This is a premium over-ear headphone that are all about the great sound quality.
Pros:
They have a tight, refined sound that offers an almost unmatched level of detail.
.
Comfortable to wear for long periods
Cons:
Comparatively feature-light pair of headphone
.
On the premium price range
Verdict:
This is for those looking for seriously high-quality pair of headphones to listen to a high-quality music collection.
The list of recommended headphones in this article are as follow:
Fintie Portable Carry Bag for Nintendo Switch, keeps your Nintendo Switch securely stored all the time. Multiple Storage:…
Turn Up The Volume & Enjoy Your Favorite Music Like Never Before, With These Exquisite Headphones Brought To…
Full set of aftermarket Xbox Cords! Easy to hook up as a replacement, or to make moving your Xbox…